Chief Ministergi

Shotharabasingi Tengbang – CMST
Chief Minister-gi Shotharabasingi Tengbang Scheme or CMST will be a single scheme containing sub-schemes under it. All of these schemes will be for the welfare and development of the disabled people living in the state.
The Chief Minister of Manipur Mr. N. Biren Singh has launched this scheme in Imphal. On the occasion of World Disability Day, held on 3rd Dec 2017, the CM of the state has officially announced about the scheme. The event was held in Indoor Stadium at Khuman Lampak, Imphal. While giving his speech, CM stated that there is no bigger religion than humanity in any country. To encourage the humanity this scheme has been launched in the state.
The scheme also promises to provide insurance coverage of up to 2 Lac per family containing 4 members. A fixed amount Rs. 366/- will be given annually to all the disabled people. This insurance coverage includes OPD charges.
State government has made an appeal to the State Social Welfare Department for giving preference to the disabled people regarding employment. Also the state has requested to work towards promoting humanity in case of improving their life.
The scheme aims at providing self sufficiency to the people with disability. This will be leading to empowerment of them. Also old people who are abandoned from the society will also get benefit of the scheme.
There will be 5 sub-schemes under this umbrella scheme. The schemes are namely Students' Scholarship Scheme, Care Giver Scheme, Free Travel Card Scheme, Soft Loan Scheme and Maintenance Grant Scheme.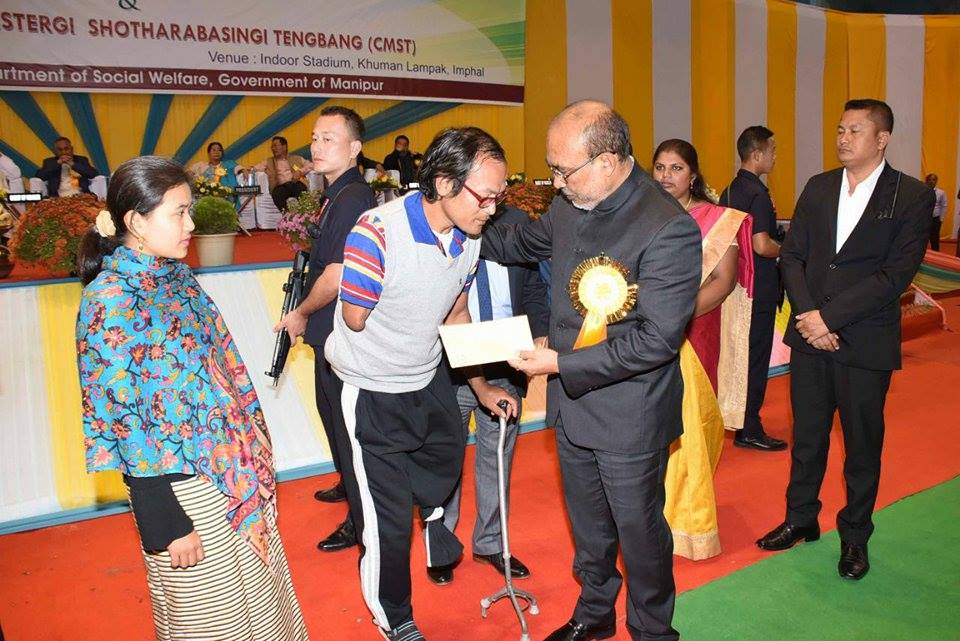 There are fixed number of beneficiaries under these sub-schemes. The scheme-wise distribution of beneficiaries will be 140 number of students under Student Scholarship Scheme, 900 people will be considered under Care Giver Scheme, 700 people will be eligible for Free Travel Card, 5 number of beneficiaries will get loans under Soft Loan Scheme and 286 numbers of old people will get benefits under Maintenance Grant Scheme.
30
Total Disbursed Amount(Cr)
Below data is for care giver (2021 - 2023)
| wdt_id | District | Financial Year | No of Male | No of Female | No of Beneficiaries |
| --- | --- | --- | --- | --- | --- |
| 1 | TENGNOUPAL | 2022-2023 | 14 | 11 | 25 |
| 2 | THOUBAL | 2022-2023 | 419 | 323 | 742 |
| 3 | JIRIBAM | 2022-2023 | 41 | 34 | 75 |
| 4 | THOUBAL | 2022-2023 | 434 | 342 | 776 |
| 5 | TENGNOUPAL | 2022-2023 | 29 | 23 | 52 |
| 6 | CHURACHANDPUR | 2022-2023 | 226 | 165 | 391 |
| 7 | JIRIBAM | 2022-2023 | 38 | 32 | 70 |
| 8 | KANGPOKPI | 2022-2023 | 98 | 69 | 167 |
| 9 | UKHRUL | 2022-2023 | 184 | 132 | 316 |
| 10 | THOUBAL | 2022-2023 | 419 | 323 | 742 |
| | District | Financial Year | No of Male | No of Female | No of Beneficiaries |