SaMagra Shiksha

Abhiyan (SSA)
Samagra Shiksha is an overarching programme for the school education sector extending from pre-school to class 12. The scheme has been prepared with the broader goal of improving school effectiveness measured in terms of equal opportunities for schooling and equitable learning outcomes. It subsumes the three Schemes of Sarva Shiksha Abhiyan (SSA), Rashtriya Madhyamik Shiksha Abhiyan (RMSA) and Teacher Education (TE) and was launched in 2018.
The scheme covers 1.16 million schools, over 156 million students and 5.7 million Teachers of Govt. and Aided schools (from pre-primary to senior secondary level).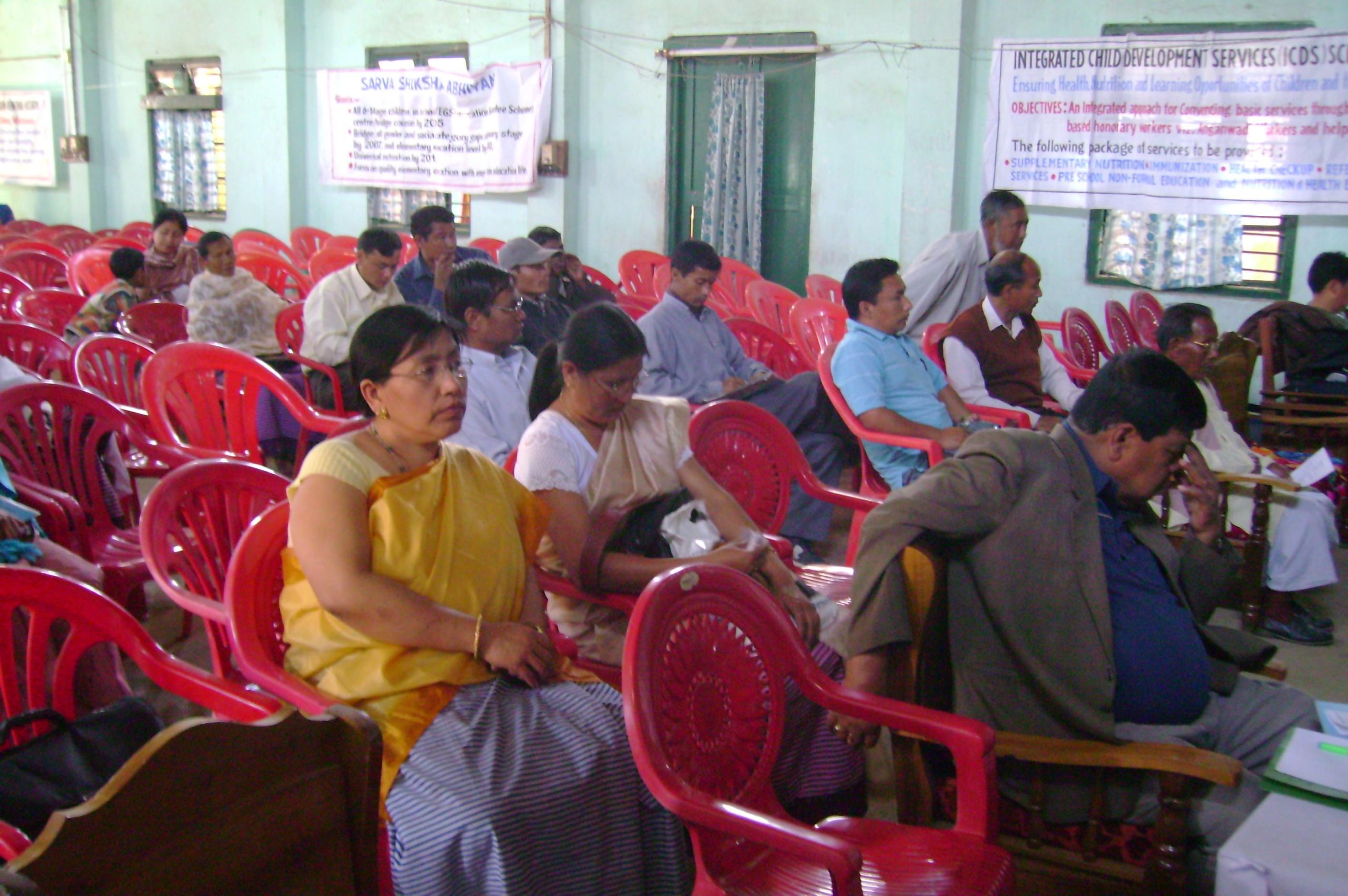 The major objectives of the Scheme are
Provision of quality education and enhancing learning outcomes of students;
Bridging Social and Gender Gaps in School Education;
Ensuring equity and inclusion at all levels of school education;
Ensuring minimum standards in schooling provisions;
Promoting Vocationalisation of education;
Support States in implementation of Right of Children to Free and Compulsory Education (RTE) Act, 2009; and
Strengthening and up-gradation of SCERTs/State Institutes of Education and DIET as a nodal agencies for teacher training.
The scheme launched in 2018 has been extended for the period 1st April, 2021 to 31st March, 2026 with an Financial outlay of Rs.2,94,283.04 crore which includes Central share of Rs.1,85,398.32 crore.
636270
Total Students Enrolled (in 2022)
1015736
Total Free Textbook Provided
872166
Total Free Uniform Provided
Below data is for (2022-2023)
| wdt_id | Finacial Year | District Name | Achievement Field | Target | Achievement |
| --- | --- | --- | --- | --- | --- |
| 1 | 2022-23 | BISHNUPUR | 0 | 12,656 | 100 |
| 2 | 2022-23 | CHANDEL | 0 | 5,923 | 100 |
| 3 | 2022-23 | CHURACHANDPUR | 0 | 19,351 | 100 |
| 4 | 2022-23 | IMPHAL EAST | 0 | 17,363 | 100 |
| 5 | 2022-23 | IMPHAL WEST | 0 | 16,792 | 100 |
| 6 | 2022-23 | JIRIBAM | 0 | 6,603 | 100 |
| 7 | 2022-23 | KAKCHING | 0 | 5,319 | 100 |
| 8 | 2022-23 | KAMJONG | 0 | 5,175 | 100 |
| 9 | 2022-23 | KANGPOKPI | 0 | 18,398 | 100 |
| 10 | 2022-23 | NONEY | 0 | 5,517 | 100 |
| 11 | 2022-23 | PHERZAWL | 0 | 3,860 | 100 |
| 12 | 2022-23 | SENAPATI | 0 | 15,201 | 100 |
| 13 | 2022-23 | TAMENGLONG | 0 | 8,404 | 100 |
| 14 | 2022-23 | TENGNOUPAL | 0 | 4,049 | 100 |
| 15 | 2022-23 | THOUBAL | 0 | 15,828 | 100 |
| 16 | 2022-23 | UKHRUL | 0 | 9,838 | 100 |
| 17 | 2022-23 | BISHNUPUR | 0 | 9,668 | 100 |
| 18 | 2022-23 | CHANDEL | 0 | 5,327 | 100 |
| 19 | 2022-23 | CHURACHANDPUR | 0 | 16,147 | 100 |
| 20 | 2022-23 | IMPHAL EAST | 0 | 13,805 | 100 |
| 21 | 2022-23 | IMPHAL WEST | 0 | 13,834 | 100 |
| 22 | 2022-23 | JIRIBAM | 0 | 5,990 | 100 |
| 23 | 2022-23 | KAKCHING | 0 | 4,297 | 100 |
| 24 | 2022-23 | KAMJONG | 0 | 4,535 | 100 |
| 25 | 2022-23 | KANGPOKPI | 0 | 15,913 | 100 |
| 26 | 2022-23 | NONEY | 0 | 5,069 | 100 |
| 27 | 2022-23 | PHERZAWL | 0 | 3,266 | 100 |
| 28 | 2022-23 | SENAPATI | 0 | 14,523 | 100 |
| 29 | 2022-23 | TAMENGLONG | 0 | 7,864 | 100 |
| 30 | 2022-23 | TENGNOUPAL | 0 | 3,397 | 100 |
| 31 | 2022-23 | THOUBAL | 0 | 13,039 | 100 |
| 32 | 2022-23 | UKHRUL | 0 | 9,171 | 100 |
| | Finacial Year | District Name | Achievement Field | Target | Achievement |