"Loumisingi Paojel" a Mobile-based Agro-Advisory Service
Loumisingi Paojel is a project jointly implemented by the College of Agriculture, CAU, Imphal, Digital India Corporation, New Delhi, funded by the Ministry of Electronics and Information Technology, Govt. of India (MeitY).
The goal of the project is to keep farmers updated about the latest techniques, news, rules, and regulations about farming, poultry rearing, livestock, etc. through mobile phones. Since almost all the farmers or farmers' family are having phones (either smart or feature phones), the service can be accessed easily.
Districts To Be Covered by Project
Imphal East
Imphal West
Thoubal
Bishnupur
Kakching
8000 farmers will be selected from five districts depending upon the number of farmers in the villages.
However, interested farmers from other districts can also consult with the experts regarding their farm-related issues. (The process is discussed later for unregistered farmers).
How Farmers can make use of the Mobile-based Agro-Advisory Service?
Most farmers' fields are remotely located and it becomes quite difficult to get timely advice from the experts. With the mobile-based agro-advisory service, farmers can easily talk to their relevant experts just by using their cell phones without leaving their farms.
The mobile-based advisory will also provide a fast mode for sharing and exchanging desired knowledge from experts. Since it is mobile-based, Subject-Matter Specialists can also get information from the farmers immediately which will help in providing advisories in time.
It is cost-effective in comparison to other modes of giving advice. The service will assist in making well-informed decisions based on accurate weather conditions, information about the market, and demand for any particular product.
Services Provided by Loumisingi Paojel
The Broad area of agro-advisory services includes:
1. Crop Advisory Services (for major agricultural crops in Manipur)
Crop Planning
Variety Selection
Nursery Management Practices
Scientific Cultivation Techniques
Post-harvest and value addition etc.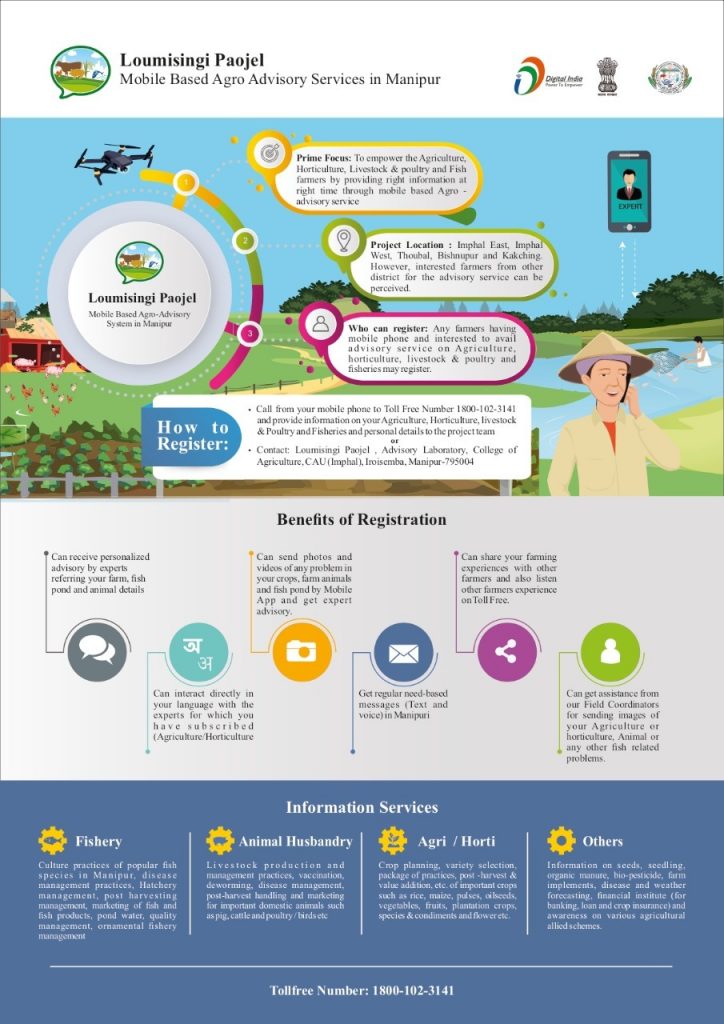 2. Animal Husbandry Advisory Services (Piggery, Dairy, & Poultry, etc.)
Livestock production management practices along with vaccination
Deworming
Disease Management
Processing & Post-harvest handling
Marketing
3. Fisheries Advisory Services
Scientific aquaculture practices along with disease management
Water quality parameters
Value addition product of low value fish
Composite fish farming system
Different fish-based integrated farming systems
Fish seed production
Water Harvesting System
Maintenance and repairing of important agricultural implements e.g. tractors, power tillers, sprayers, dusters, aerators, etc.
Information on seeds, seedlings, organic manure, bio-pesticide, farm implements, disease
Weather forecasting
Financial (banking, loan, and crop insurance)
Awareness of various agricultural allied schemes and training
Demonstration of advanced farming technologies
General Problems Faced by Farmers in Manipur
There are several difficulties confronting the agriculture sector.
Some of the problems faced by farmers that reduce high productivity in Manipur are as follows:
Slow agricultural growth due to underdeveloped infrastructure in the hilly terrain of the state
Lack of irrigation
Acidic soil
Low yield for many agricultural commodities
Low-level of farm mechanization
Low production due to poor land efficiency
Lack of agri-marketing opportunities
Lack of proper storage facilities
Inefficient finances
Lack of technical knowledge
Low awareness about technological advancements available in areas for climate-smart agriculture
Who can Register for Loumisingi Paojel?
Any farmers who have a mobile phone and are interested in availing advisory services on Agriculture, horticulture, livestock & poultry, and fisheries may register.
How to Register for Loumisingi Paojel?
Farmers can register themselves in the Loumisingi Paojel project by calling the toll-free number 1800-102-3141 and providing the required information including personal details about their farms, crops, fish, livestock, etc. to the project team.
Each farmer will get a unique Identification Number (ID). If you want to know your ID number and your registered mobile number, you can give a missed call at 022-4046-3146 or 022-6852-3146 to get an SMS that will show your ID number and mobile number registered with Loumisingi Paojel.
All the transactions will be recorded in the database.
Or you can contact Loumisingi Paojel, Advisory Laboratory, College of Agriculture, CAU (Imphal), Iroisemba, Manipur-795004.
You can also visit the website: https://m4agri.dic.gov.in/# to get more details.
Benefits of Registration:
Can receive a personalized advisory from experts referring to your farm, fish pond, and animal details
Can interact directly in your language with the experts for which you have subscribed (Agriculture/Horticulture)
Can send photos and videos of any problem in your crops, farm animals, and fish pond by mobile and get expert advisory.
Get regular need-based messages (Text and voice) in Manipur
Can share your farming experiences with other farmers and also listen to other farmers' experiences Toll-free.
Can get assistance from our Field Coordinators for sending images of your Agriculture or Horticulture, animal, or any other fish-related problems.
How to Get Advisory for Registered Farmers?
Call from your registered mobile number to Toll-Free Number 1800-102-3141
Press the relevant key to speak to an expert. For example, if you registered for the fishery, livestock, and agriculture then:
Press 1 to speak to an Agriculture expert
Press 2 to speak to a Horticulture expert
Press 3 to speak to a Livestock and Poultry expert
Press 4 to speak to a Fishery expert
To give feedback on the advice received
Press 1, if satisfied
Press 2, if not satisfied
Call from your registered mobile number to Toll-free Number 1800-102-3141
Press 9 for 'Other Services
Listen to your 'Past Advice'
Press 1 to listen to past conversations held with the experts
Listen/Record 'Good Practices'
Press 2 to record or listen to good farm practices, then:
Press 1 to listen to the good farm practices recorded by your fellow farmers
Press 2 to record your good farm practices to share with your fellow farmers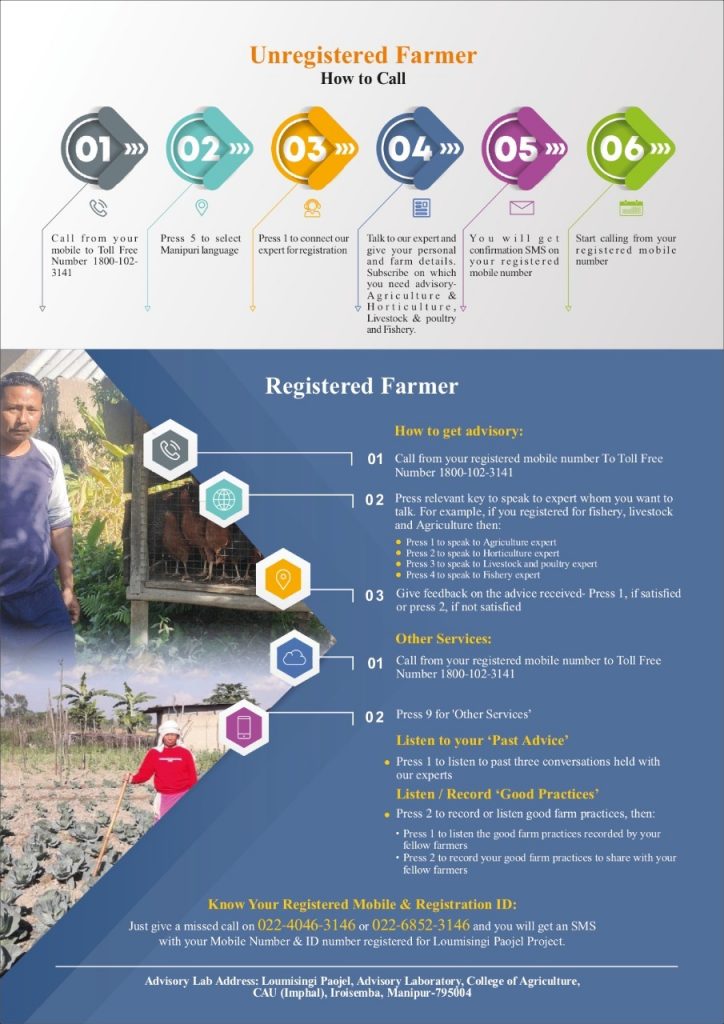 How to Get Advisory for Unregistered Farmers?
Call from your mobile number to Toll-Free Number 1800-102-3141
Press 5 to select the Manipur language
Press 1 to connect with our expert for registration
Talk to our expert and give your personal and farm details. Subscribe on which you need advisor- Agriculture & Horticulture, Livestock & poultry, and fishery.
You will get a confirmation SMS on your registered mobile number
Start calling from your registered mobile number