FESTIVALS OF MANIPUR: CHAVANG KUT
Chavang Kut, popularly known as the Kut festival, or is one of the many beautifully celebrated festivals of Manipur. Celebrated by the tribes of Kuki-Chin-Mizo groups of Manipur, Chavang Kut is a festival that is observed with so much energy and cheerfulness. During the festival, people of all the communities of Manipur come together to observe this amazing festival.
Chavang Kut is celebrated on the 1st of November to honor the blessings of the deity for a good harvest every year. It also marks the end of the harvesting season. Roughly translated, 'Chavang' means 'autumn' and Kut means 'harvest'. In the past, the Kut festival used to last several days, and the community used to perform many rites. After the main necessary rituals, the village priest distributes Ju (rice beer) to the locals of the village and other visitors. The celebration continues with cultural performances of folk dances and traditional forms of singing. These beautiful events are accompanied by sports competitions among the locals and huge, magnificent feasts.
It entertains the young and old alike – while the youth participate in sports and other physically demanding performances and competitions, the old and aged enjoy the entertainment leisurely.
The festival has evolved through time with the influence of other cultures of the world. There is no written or hard rule to be followed in the celebration of Chavang Kut but the display of the tribes' traditional attires and cultural performances honoring their deity remain the core theme of Chavang Kut.
A major part of these rituals is continued for the present generation to remember their roots and to retain and promote their traditional and cultural values. However, with time and to accommodate inclusive participation of all communities and ages, as well as to spread the message of women empowerment, present-day celebrations of Chavang Kut have added features such as the Miss Kut Beauty Pageant.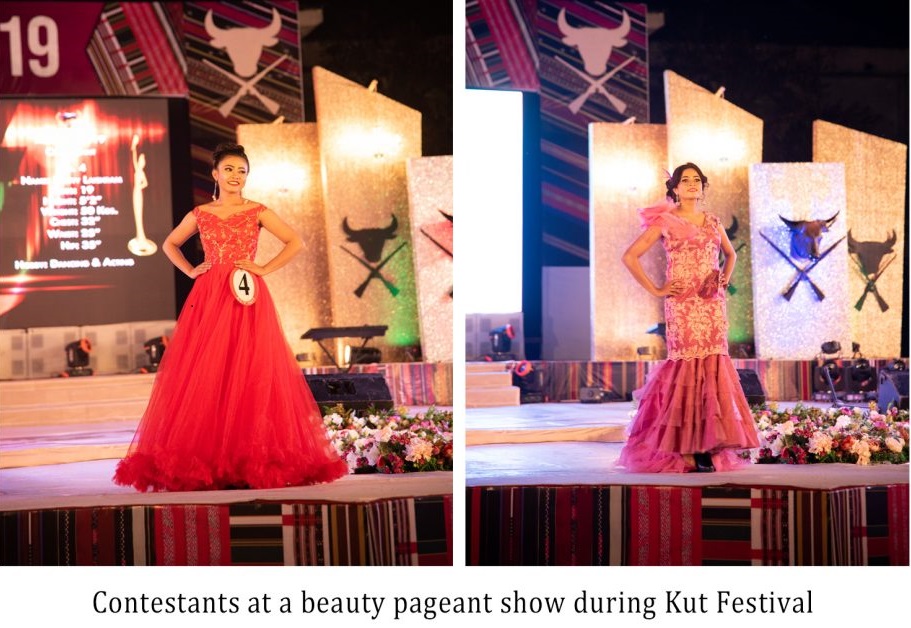 One of the major attractions of this festival is the Miss Kut Beauty Pageant is an extravagant procession displaying the mesmerizing traditional attires of the community. Many spectacular performances from various artists grace the occasion as well. Celebrities and influential personalities grace this pageant every year.